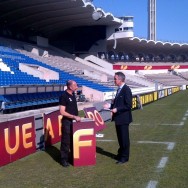 11 Olympic Games and over 70 world championships have allowed AdviSPORT to develop a 360° approach for all levels of sports events.
_______________________________________________________________________________
AdviSPORT analyses your events and makes recommendations on how to increase the satisfaction of your customers (spectators, sponsors, media, etc.).
Event Management




– Fulfil and ensure the expected execution of your competitions;




– Keep a global overview on any issue that may affect the running of your event.
Sport Presentation




– Present your sport in a way that spectators enjoy the event through better understanding (provide them with key figures and data);




– Create a special atmosphere, encouraging positive emotions.
Competition Formats




– Meet the expectations of the various audiences




– Create engagement and interest
AdviSPORT helps you to rethink the fundamentals of your sport so as to strengthen the impact of your events.